Results / Noble Marine Allen RS100, RS300 & RS600 National Championships Brixham YC - 09/09/2021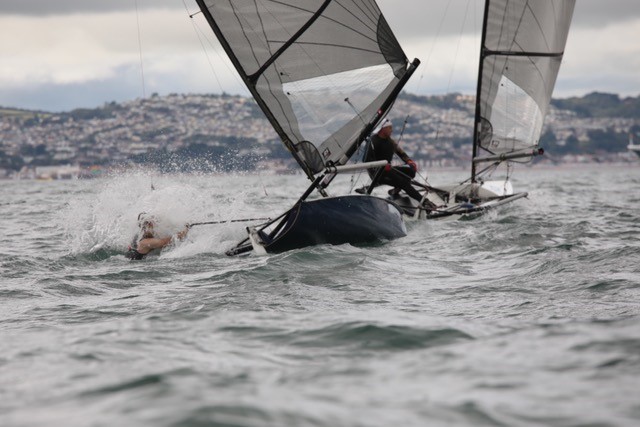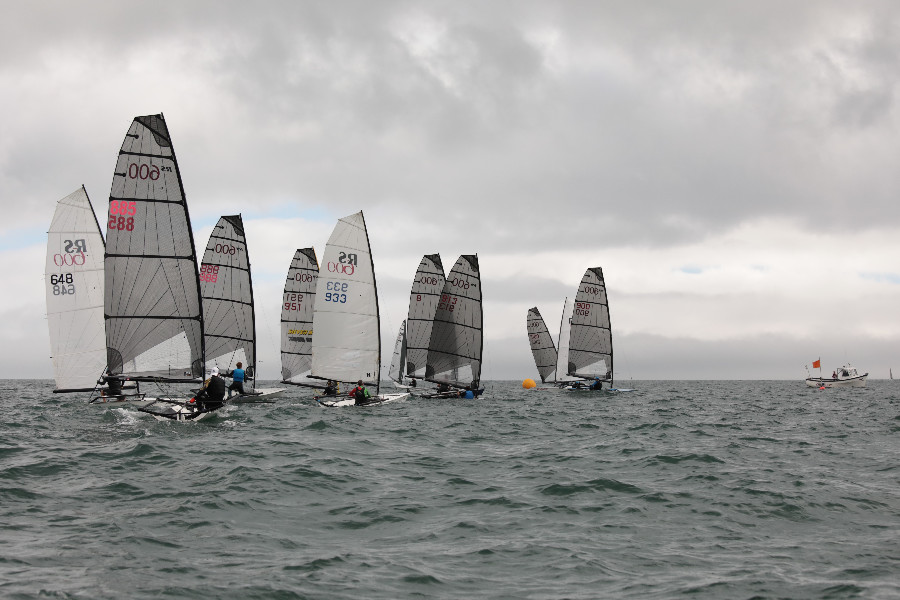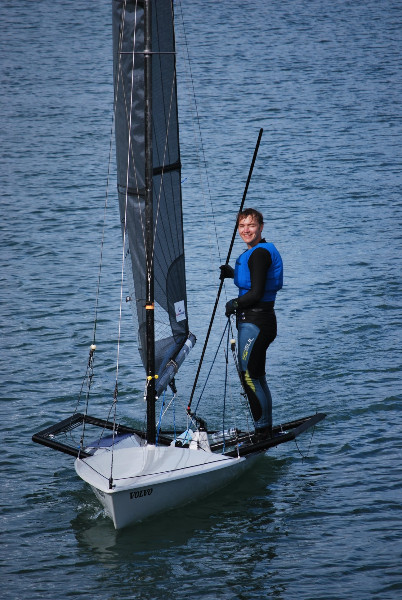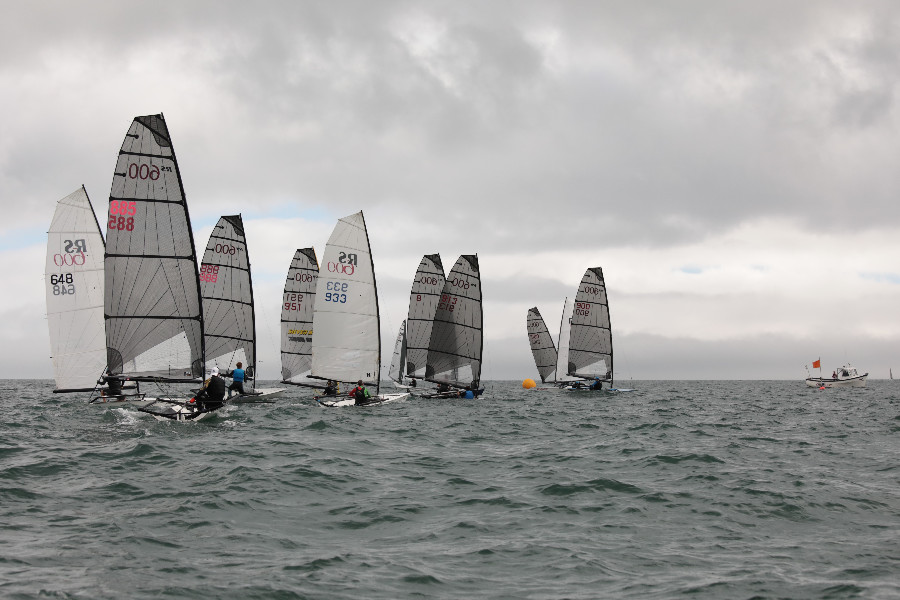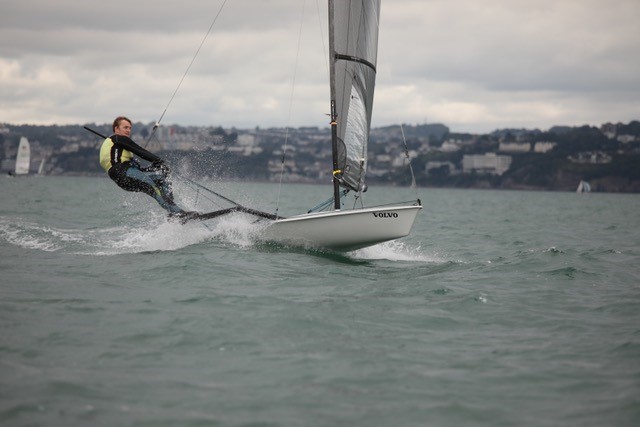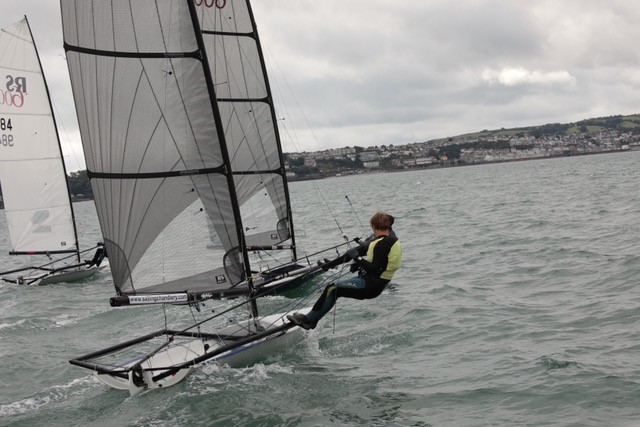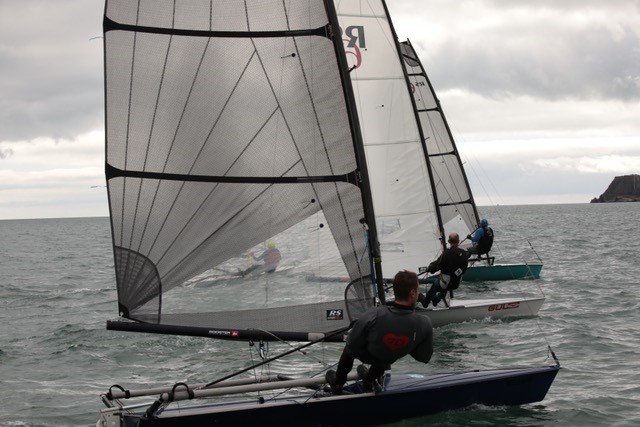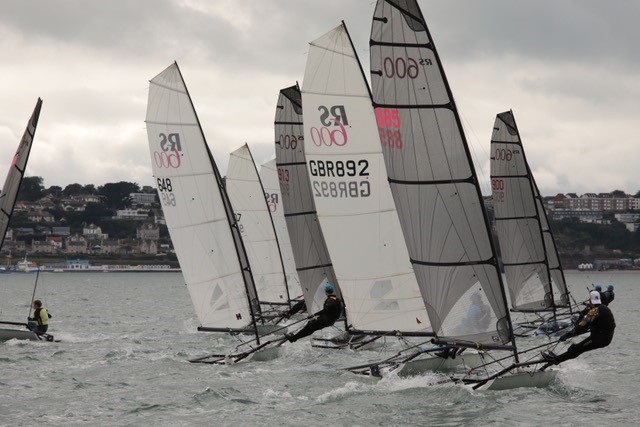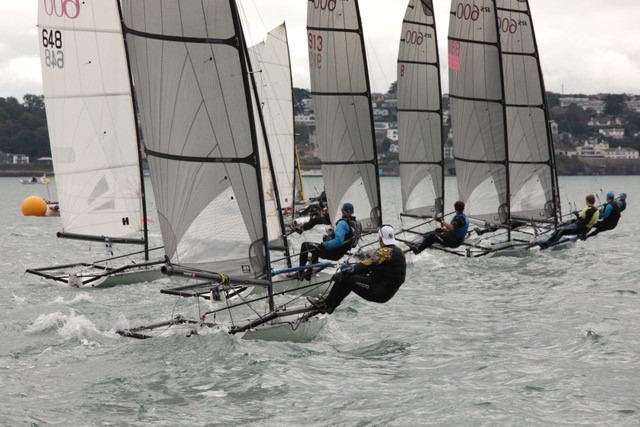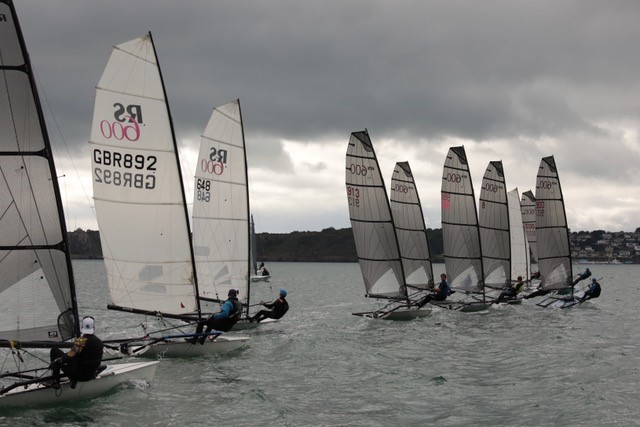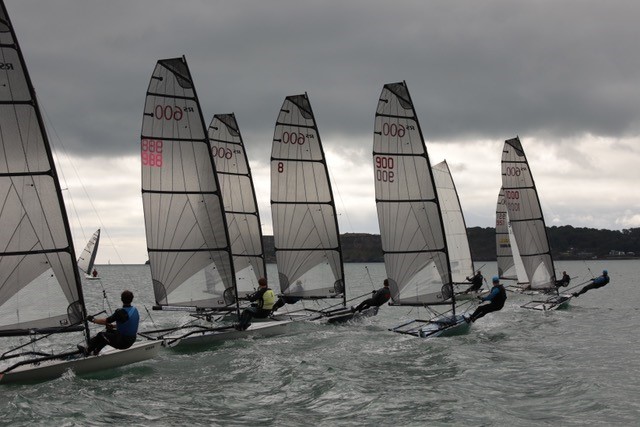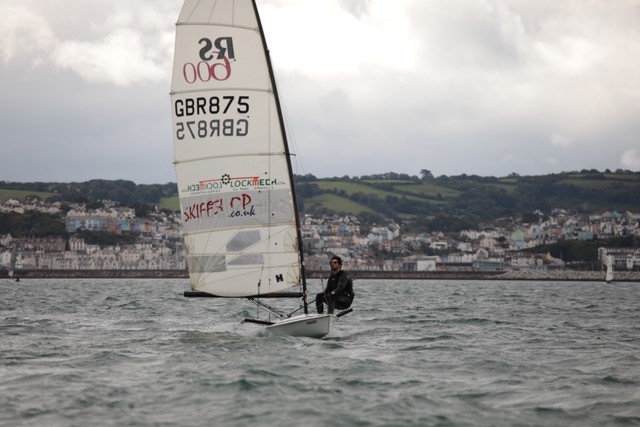 Day 1
Inevitably, there's lots of adjectives for first day of a champs. Square or cube that when sailing, travel and events have been restricted by you-know-what. And there's been no wind since forever, at least when it was of any use anyways.
But Brixham delivered; the fog cleared, we planed towards Paignton and Cunard's mothballed Queen Victoria to race in a shifty, gusty F3-F4 SW, blowing off the shore (which always disorientates this sailor at least, surely a SW should come from the open sea?).
So which adjective to start with. Perhaps 'rusty' (no not my dad, for those in the know) but to describe Andy Jones who started the day with an 11th then remembered what to do and rampaged to bullets in the following two races to sit 3rd overall. Perhaps the same 'rusty' adjective, plus words of astonishment apply that twice champion Brett Aarons, after a typically assured race one win, capsized twice in race 2. Wha?
Then there's Huw Powell. Assured? Consistent? Poised? Well he's certainly king-of the hill, with a 3-2-2 and more of his favourite lashings of breeze coming tomorrow. But he may rue runs in races 1 & 3 where he found lulls on the right, particularly letting Andy past for the bullet in R3.

Huw's 5 points clear of dark-horse James Ross who's leading the Netley Massive's (most welcome) invasion, second overall with a 6-3-3.
Next is 'ungrateful' 'fast-learner' Nigel Wakefield who a couple of weeks ago was asking your correspondent for advice, then seemed to spend today being that nemesis that you wonder if this is personal. Nah, it's just blinkin' fun racing. But pipping me at the last in race 3 for 5th having earlier fallen in on a gybe shows he's trying.
A slight digression. A few champs ago, and more recently in his POSH report and his 'runners and riders' for this event my fellow RS100 journalist, Mr Wobbly-Blue-Stripe Smart pigeon-holed this correspondent as a pond sailing, light-weather ne'er do well. Perhaps that'll be tomorrow David. Probably, but the pond sailor is currently 5th overall regardless.
Special mentions also go to;
Steve Jones for his obstructive, blocking manoeuvre windward-capsize right at the windward mark
Jeremy Troughton for his failed lassoing of the spreader mark with his kite sheet, hence narrowly dodging a spectacular debacle
Mark Harrison for breaking a shroud halfway thru race 2, asking me if I had a spare, sailing in, fitting it. Then whinging we did not orchestrate a General Recall, meaning he was 3 mins late for the next start. Darn good effort, but all just to gain one place over a DNC
Dedicated, taking-it-too-seriously-whilst-actually-taking-the-mickey John Elms, (unluckily) buddied with David Smart, for interrogating Screwfix et al as to whether they had wobbly blue tape. Understandable, they all denied such a product was even on their systems, or even a thing.
Captain Calamity Mostyn Evans, for failing to bring the wrong sails and managing to rig his boat faultlessly, despite not having Pippa there to supervise
The Netley team for finally breaking out of Southampton's borders and coming out to play. They're having a campsite BBQ tonight - think in terms of the chaos when the Death-eaters ransacked the Quidditch world cup site. Hopefully, this will slow some of them down for windy day 2
And finally, but foremost, superstar Brixham YC's Commodore and support team for spending the day in the oggin, launching and later catching the 600, 300 and 100 fleets. Thankyou.
Clive Eplett
Day 2
All characters and events depicted in this write-up, even those based on real people, are entirely based on the writer's perspective and imagination…
The 100 fleet stirred some aching joints for the expected Force 5 South Westerly. The heavyweights we're looking forward to the fun, while others were hoping to survive the day while keeping their masts pointing skywards.
As it turned out, the Force 5 never quite materialised, although there were a few big gusts to be sniffed out.
Race 4
What a difference a day makes! Andy Jones was basking in the glories of Day 1, but pulled the trigger a bit early so had to go back and started dead last. However his fellow Chew sailor Smart (your correspondent) went left and into some pressure to lead at the windward mark first. However some great sailing from Jolliffe spotting shifts correctly up the second beat saw him take the bullet from a fast charging Aarons with Smart 3rd.
Race 5
James Ross may be in the silver fleet, but those in gold need to keep a close eye on him. He sailed an exceptional race to take the bullet. This was going to be ahead of Jolliffe, but a port/starboard infringement on the run meant Jolliffe had to do a turn before the finish, letting through Andy Jones and Smart again third on the line.
Race 6
A big gust and shift meant the first attempt at this race was abandoned on the final approach. That let the gust blow through, leaving some lighter patches to swallow up the unsuspecting. Aarons and Jones went right and gained handsomely over the rest of the fleet who went left into a header. They led at the top mark and went right down the run, but a small gaggle behind spotted a humongous gust on the left and quickly gybe into it. Jones tried to gybe, but slipped leading to an expletive rich capsize. By the leeward gate, Aarons was well ahead with Eplett second and Smart gaining most from the big gust with Powell in hot pursuit. A hole gobbled up Eplett, while Powell sneaked past Smart on the run to take second behind the distant Aarons.
After six races, Aarons and Powell are on the same points and opening up a gap over Ross in third who has Jolliffe and Jones close behind.
Special mentions to Matt Johnson who succeeded in capsizing on the way to the start while trying to put on his sailing gloves (maybe put them on before going sailing?). While Duncan Barr took the genius tactical decision to hoist his kite before the spreader mark, to gain a few metres on those around him. However, realising he was going to struggle to make the spreader, he didn't fully hoist the kite, meaning the hull went to starboard of the mark, while his spinnaker went to port, catching the offending mark in the middle and providing many new expletives for those in ear shot. Oops!
Weary limbs were revived in the bar with sausage and mash and a very entertaining pig racing evening with an exceptionally energetic host. Whatever he was on, I want some for the four races planned for Saturday.
David Smart
Day 3
Somewhere below, there is a proper(-ish) race report. Which might be a first for this correspondent.
But before that, the prologue.
There seem to be a group of people here in beautiful Brixham living under the misapprehension that there's an RS100 National Championship in progress.
History, however, is actually defined by whatever the writers of the time document. In the absence of his sorely missed greatest rival Greg Booth, my co-correspondent and new class chairman David Smart, has decided that all that really matters is which of us beats the other. Obviously, this is pretty egocentric, but his rules. What's weirder is that for five minutes of race 10 today we actually raced each other for the first time this week.
Obviously, this is tosh, so back to the Nationals.
The sail out to the start for four scheduled races (bringing one forward as the forecast for the final day is looking precariously light) finally delivered the big breeze promised for yesterday. Happily for those of us with leaden legs from day 2, it dropped off to the actually forecast F3-4 westerly – more big shifts off the land, gust lanes and soft patches To add to the fun, Cunard's Queen Vic was (unavoidably for the race team) in play if you went hard left down the run.
First shout out and "we're not worthies" go to Nick Shuttleworth for his first at the first mark in race 1 of the day. One of my sailing heroes once said to me that success is just three things, getting there, staying there and doing it consistently. You're a third of the way to success, Nick.
To bookend the special mentions, Nigel Wakefield was so desperate after racing to be first up the club slipway, he hoisted his kite in the harbour, where the wind does very interesting pirouettes. We assumed he must be on a hot date, but he was later in the bar with the rest of us. I'll leave alternative explanations to the readers imagination.
Back to the racing. As race 1 of the day progressed, the more usual suspects (and your correspondent) found their way to the front, headed by Brett Aarons, yours truly (Clive Eplett) and Andy Jones. On the last run, Brett strategically put himself in the middle, Andy stayed right and found pressure, with Clive between the two. Andy was flying, Brett in the Doldrums. As it unwound, Clive crossed first, with Brett just rescuing second from Andy, followed by a whooping Steve Main and Huw Powell.
Race 2 of 4 was an 'after-the-Lord-Mayor's show for the previous race winner, who gave up and stopped for lunch half-way thru. More big shifts and gusts spread the fleet hugely. Andy was again on fire, winning by a big margin from David Smart, equally comfortable in second, Huw third and Brett fourth. Getting tight at the top.
Race 3 of 4. Clive, rested, won the pin, accompanied by Andy and Tim Hulley. At which the rest of the fleet to windward got a massive private lift. Andy bit the bullet and cut his losses. Ouch. Clive kept going and it came back. Nils Jolliffe led, Brett was extracted at the windward mark for a U-flag infringement leaving Clive and Andy after a huge recovery again battling. At the last Andy dumped the mainsheet, sailing higher between gate and line to steal second. Rude words might have been uttered. The ever present, consistent, Huw 4th and Ian Gregory next.
Race 4 of 4; Huw led reasonably comfortable from the outset, pursued by James Ross and Clive who had a battle royal up the last beat (he likes tacking on you, does James). Clive got his revenge on the run by hoisting early and rolling him, then setting off in pursuit of Huw. Error. Too busy match racing. 50 yards from the gate, they look up and see Brett and Nigel Wakefield planing in 4 times the pressure – those two grab first and second, with James fifth. More Anglo-Saxon ensued.
At the end of the day, the scores show Brett leading, three points ahead of Huw but carrying a 14th and UFD as discards.
Andy in third cannot catch Huw who is 6 points ahead but discarding a fifth (I said he was consistent), but Andy needs to look over his shoulder at Nils, 4 points behind but with much better discards.
James is a further 2 points behind and one ahead of Clive, safe in 6th, followed by Nigel and David.
With one race to go, the forecast is for barely enough to race and veering 180 degrees, N to S. Hence, the only sure prediction for Sunday is that there will be early packer-uppers and a game of 'chicken' for others wondering whether to do the same.
Final word is a round of applause, 3-cheers and huge thankyou from the whole RS100 family to Mark Harrison who has been acting as Class Chairman for, nearly, ever, but stood down at the AGM today. He's done a fantastic job and we are all really grateful. Some act to follow Smartie. No pressure.
Clive Eplett
Day 4
Sometimes, I hate it when I am right. Mind you my wife says she "married Mr Right, well, Mr Always Right"
As predicted in the Day 3 report, no sailable wind turned up for the final race (11) of the 2021 RS100 Nationals at Brixham YC and a wise early call was made by the powers that be to can it for the day.
Another aside; if this is what wind-conditions are going to be like under the new Class Chairman, Mark Harrison will soon be back in the hot seat, whether he likes it or not.
Consequently, Brett Aarons retained his title from 2019 held at Porthpean, from Huw Powell, Andy Jones (also first master. Chairman; we need to revisit the age limits here!), Nils Joliffe and James Ross (also Silver Fleet winner). Steve Jones won the Fidelis Trophy and, with no help from his buddy (yours truly), Andy Trickett of Netley won the Endeavour Prize.
With Team Netley in seventh, fifth, fourth and 50% of second (Huw also sails as Red Wharf Bay SC) it was great to have them travel. The campsite owner agrees; contrary to my earlier exaggerations, they did not ransack the place. Hence they really ought to come out to play more often. Please.
The Chew fleet is reported now in the teens too, led by the Jones brothers and David Smart, but with John Elmes having his moments as well.
Hence the class continues to prosper with those who have seen the light - competitive but fun sailing and a great social atmosphere.
Congratulations to Brett, commiserations to Huw (who has already started a campaign for no discards) and thanks to the whole team at Brixham YC for hosting a great event, on and off the water. I for one would jump at the chance to return one day.
Thanks also the our title sponsors Noble Marine and Allen, who provided vouchers for the top three sailors; to Rooster for providing buffs to all sailors and Fernhurst books for the Endeavour voucher, presumably so the winner can buy Clive's book!
Also thanks to Sally Campbell from the RS Association who, thanks to Covid, organised about 20 versions of this championships before the rules settled and we could finally sail. Thank you Sally.
Clive Eplett
Photos: Gareth Fudge, Boatographic. Full gallery and photos to purchase: day 1, day 2