Results / Rooster National Tour & Training Event Bough Beech SC - 22/04/2023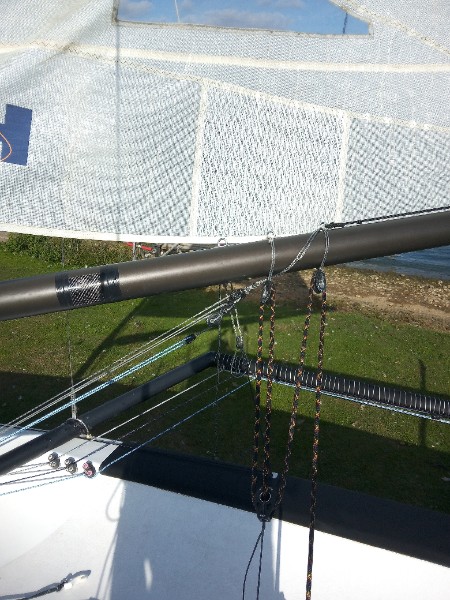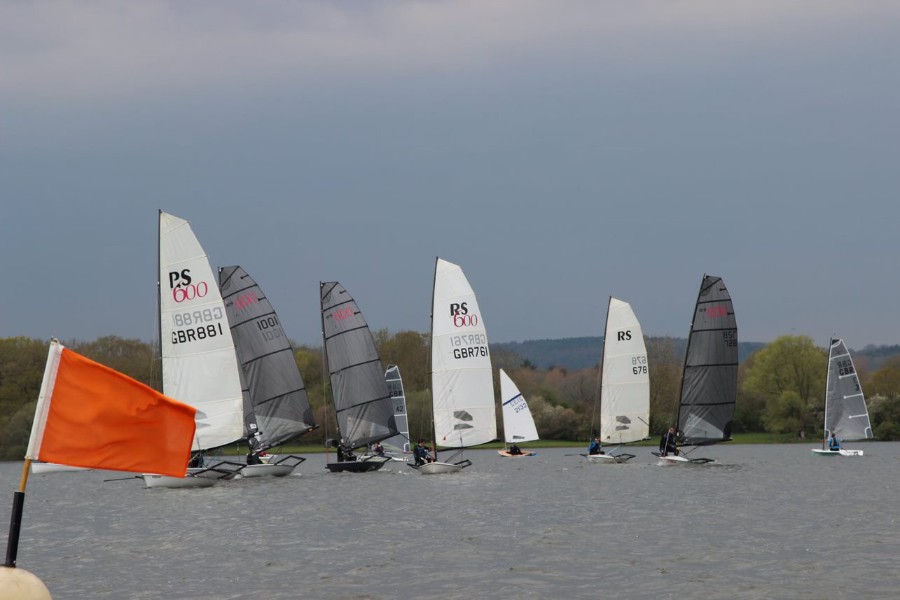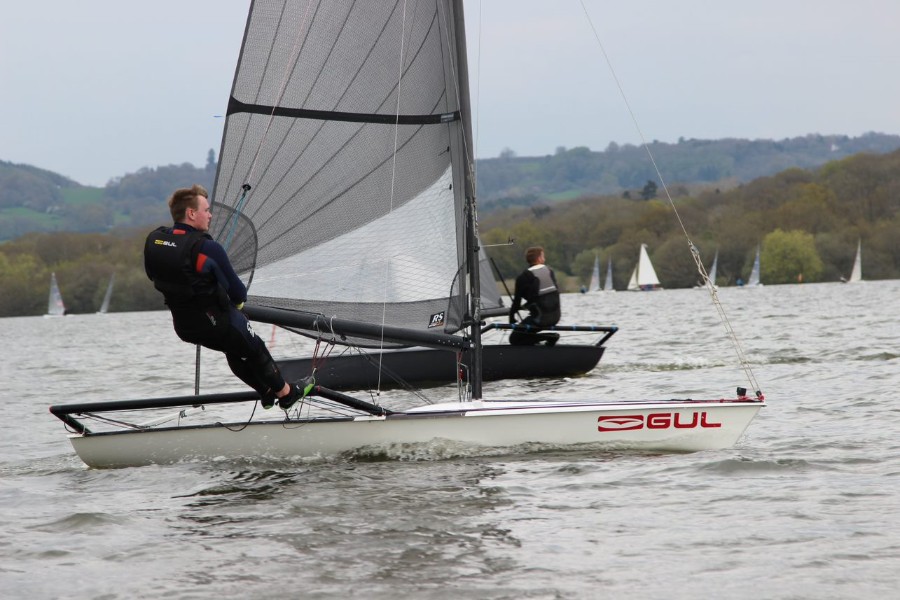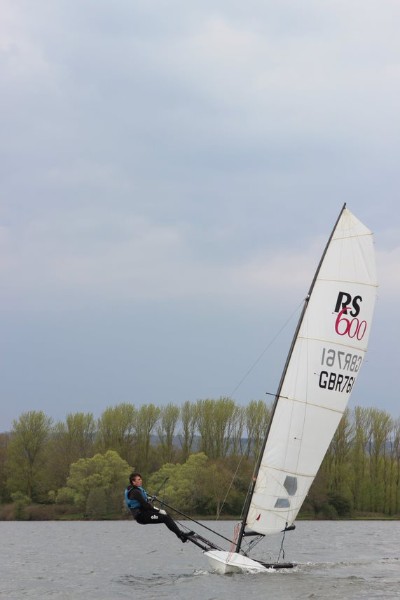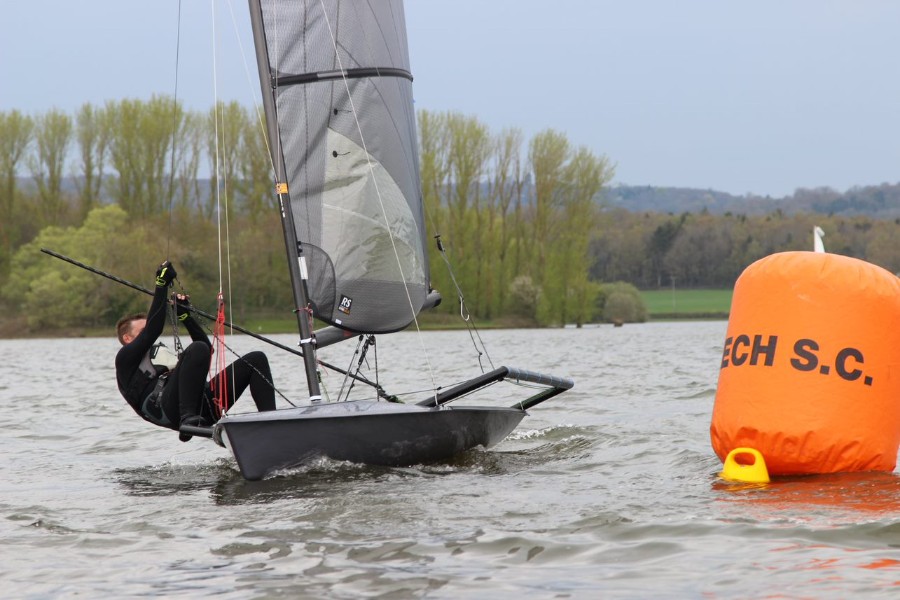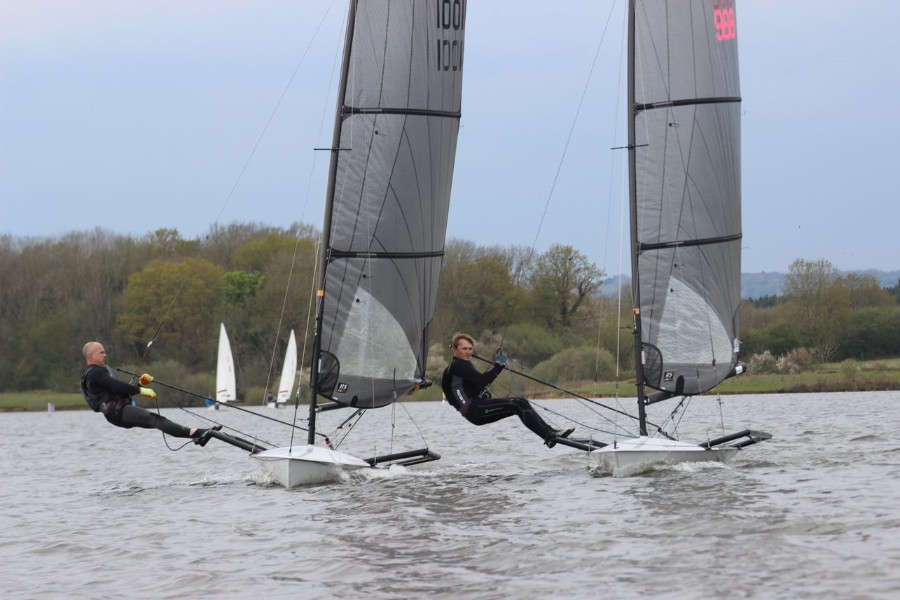 The first event of the 2023 RS600 Rooster National tour kicked off with a training and racing event at Bough Beech on 22nd/23rd April, alongside Finns Streakers and D-Zeros.
Training was run by National Champion and local sailor George Smith, with the main focus of Saturday's morning training session being boat and rig set up due to a significant lack of wind for on the water training!
The common themes were around systems:
Most people lack the range in the kicker usually meaning that they can't pull enough on when sailing upwind in moderate to windy conditions, or let it off enough to be able to soak downwind. Ideally you want to aim to have all the blocks in the cascade just touching with the sail hoisted with minimal tension.
Another thing that comes up often is halyard stretch and slippage. Current best practice is to pre-stretch when hoisting, then pulling the cunningham hard and then snugging up any slippage. A hook rack and dyneema loop reduces stretch and cover wear from a traditional cleat.
It's definitely worth having an adjustable mainsheet strop that allows you to loosen the strop in light winds and tighten up for heavier breeze. The front of the daggerboard case is an OK reference point but it's best to set once sailing with your controls set for the conditions.
On the water there wasn't a lot to be learnt from the pre-race drift off! Main pointers were to not over sheet or kicker in really light winds as it leads to a very hooked leech and is slow! Set up will quickly change as soon as the boat powers up even slightly.
Right on cue, the wind filled in just before the start and gave a nice trapezing breeze for most of the time, but with some big shifts and holes to watch out for.
Race 1 saw George leading at the first mark, closely followed by Jamie Mawson. This order was maintained until the penultimate lap when Jamie split and hooked into a big left shift, taking the win from George, followed by another local, Elliot Marks.
George led for much of race 2 after a failed port tack start by Jamie, along with some very naughty words. Elliot made a huge gain up the right hand side on the last lap, eventually passing George on a nailbiting last beat to the finish after George hit a hole. Unfortunately Elliot failed to pass through the gate on one lap, giving the win to George, followed by Jamie and Tom Cutsforth.
With George and Jamie on level points, the fleet retired to the local pub for a well earned meal and to discuss latest developments, including the popular bar game of 'guess who has ordered a new boat'. A clue, there are three in the pipeline, to follow on from Chris Owen's striking slate grey boat making its debut at Bough Beech. Positive news for the class.
Day two dawned with heavy rain and a fitful breeze.
Race one saw Jamie take an early lead, sailing into new breeze with the rest of the fleet becalmed. The situation was reversed down the run, with the fleet compressing as the wind filled in from behind. Elliot took the gun ahead of Jamie and George, leaving the three very close going into the final race.
Jamie again took the lead in race two, however with the wind constantly dying and filling in again, there was all to play for. Eventually Jamie was passed by both Elliot and George, leaving all three on equal points. Elliot took the overall win based on most firsts, with George taking second by beating Jamie in the last race. Many thanks to Bough Beech for hosting the event in challenging conditions, George for running the training, and Rooster for supplying prizes. Next event is the Inlands at Grafham, 13-14th May, we hope to see as many as possible there.
Jamie Mawson
RS600 Open 2023
Results are provisional as of 16:27 on April 23, 2023
Overall
| Rank | Fleet | Boat | Class | SailNo | Club | HelmName | CrewName | Rating | R1 | R2 | R3 | R4 | Total | Nett |
| --- | --- | --- | --- | --- | --- | --- | --- | --- | --- | --- | --- | --- | --- | --- |
| 1st | | | RS600 | 881 | | Smelliot Marks | | | 3.0 | (9.0 DSQ) | 1.0 | 1.0 | 14.0 | 5.0 |
| 2nd | | | RS600 | 988 | | George Smith | | | 2.0 | 1.0 | (3.0) | 2.0 | 8.0 | 5.0 |
| 3rd | | | RS600 | 1001 | | Jamie Mawson | | | 1.0 | 2.0 | 2.0 | (3.0) | 8.0 | 5.0 |
| 4th | | | RS600 | 800 | | Tim Cutsforth | | | (4.0) | 3.0 | 4.0 | 4.0 | 15.0 | 11.0 |
| 5th | | | RS600 | 100 | | Chris Owens | | | 6.0 | 4.0 | (8.0) | 5.0 | 23.0 | 15.0 |
| 6th | | | RS600 | 761 | | Jamie Watson | | | 5.0 | 5.0 | 7.0 | (8.0) | 25.0 | 17.0 |
| 7th | | | RS600 | 678 | | Matt Wolstenholme | | | (9.0 DNF) | 6.0 | 5.0 | 7.0 | 27.0 | 18.0 |
| 8th | | | RS600 | 728 | | Will Russell | | | (7.0) | 7.0 | 6.0 | 6.0 | 26.0 | 19.0 |